Spoof-Mail: Angeblicher Notebook-Gewinn
Ein Betrüger aus Tschechien verschickt derzeit massenhaft Spoof-Mails: Darin werden die Empfänger über einen angeblichen Notebook-Gewinn informiert.
Hier der Text dieser gefälschten Mail:
Congratulations!

Your are the lucky winner.
Many companies offer products for free and you just win one.
Today we selected five accounts (random) to send this message.
You win a notebook offered by DELL.COM
See details below.

Mobile Multimedia: Powerhouse

The InspironTM 8200's potent combination of Mobile Intel® Pentium® 4 Processor-M, High-Resolution Displays and Double Data Rate System Memory packs cutting-edge mobile desktop technology into a fully- configurable notebook. Designed for notebooks, Mobile Pentium 4 processors-M generally allow cooler, quiet performance and longer battery life in notebooks.

Product Features:

Processor: NEW Mobile Intel® Pentium® 4 Processor-M 2.2GHz-M plus the new Intel 845MP chipset, which allows the Processor Support Bus to run at 400MHz.
Memory: 128M : NEW Double Data Rate (DDR) system memory doubles clock speeds to 266MHz. Up to 1GB system memory is supported, which is ideal for intensive tasks such as gaming and video editing.
Display: NEW Dell UltraSharpTM UXGA 15 displays provide incredible screen clarity with high contrast & wide viewing angles.
Video Graphics: NVIDIA® GeForce4 440 GoTM with 64MB of DDR video memory
Media Bay Options: DVD/CDRW combo drive for ultimate scalability.
Storage: High performance hard drives 20GB (5400 RPM) let you store and access loads of data on your notebook.
Integrated Communications: : Modem and networking devices are integrated directly onto the motherboard, and a mini-PCI slot is dedicated to integrated wireless networking.
Height and Weight: As light as 7.64lbs-and 1.7" thin when closed-it's convenient to carry and store.


Software

The Inspiron 8200 comes pre-loaded with Microsoft® Windows® XP operating system.

You don't have to pay anything.
Delivery cost are supported by ebay.com.
Just Click Here and complete the form with shipping address.
WARNING: You can't use someone else address without his approval.
If you have any questions just email us to advertise@ebay.com.


Thank you for choosing EBAY.COM

Have Fun
Der in der Originalmail anklickbare Link führt zu der Webseite www.promotiondell.com und weiter zu www.promotiondell.com/ebay.html und http://promotiondell.com/form.html, wo man dann seinen eBay-Namen samt Passwort angeben soll.
Diese betrügerische Website liegt in den USA bei Yahoo, wo sie erst vor kurzem (vermutlich mit Hilfe gestohlener Kreditkartendaten) eingerichtet wurde:
promotiondell.com is [ 66.218.79.190 ]
Domain Name.......... promotiondell.com
Creation Date........ 2003-10-05
Registration Date.... 2003-10-05
Expiry Date.......... 2004-10-05

Als Administrator fungiert angeblich eine Amerikanerin, die aber eine Tschechische Mailadresse hat - vermutlich die ahnungslose Kreditkarteninhaberin.
Im Header der Spoof-Mails finden sich Infos in der Art:
From advertise@ebay.com Tue Oct 07 14:24:02 2003
Return-Path: advertise@ebay.com
X-Flags: 1001
Delivered-To: GMX delivery to mailempfaenger@gmxpro.de Received: (qmail 21472 invoked by uid 65534); 7 Oct 2003 13:58:29 -0000
Received: from comp08.spika.cz (HELO lap) (62.40.88.108)
by mx0.gmx.net (mx022-rz3) with SMTP; 07 Oct 2003 15:58:29 +0200
From: eBay advertise@ebay.com
Reply-To: advertise@ebay.com
Subject: Congratulations!!
Date: Tue, 07 Oct 2003 04:58:26 -0700
MIME-Version: 1.0
Content-Type: multipart/related;
boundary="3bc54e01-bf29-45a6-aec2-fd9df6e44a11"
To: mailempfaenger@gmxpro.de
Message-ID: 20031007142402.4003gmx1@mx022-rz3.gmx.net

Wie man sieht, sitzt der Absender der Mail in Tschechien.
Alleine in Deutschland muss die Mail an Tausende Benutzer gegangen sein: Mir wurde sie von drei verschiedenen Leuten weitergeleitet und es gibt auch in den eBay-Foren schon mindestens zwei Threads dazu: Thread 1 und Thread 2.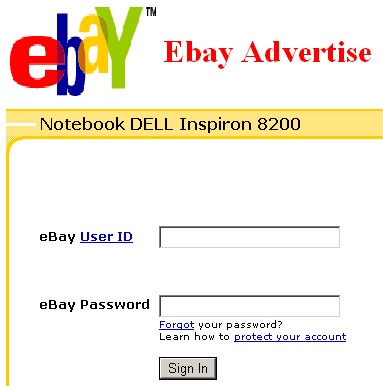 ag20031008
© 2003 bei
Axel Gronen
. Letzte Aktualisierung: 08.10.03.
Etwaige Rechtschreib- und Grammatikfehler in diesem Text sind gewollt und wurden hier mit Absicht versteckt. Wer sie findet, darf sie behalten oder auf eBay versteigern. Best viewed with open eyes and a human brain ver. 1.0 or above.